Whatman company proposes a complete range of single-use filters, conceived for a fast and effective filtration of aqueous and organic solutions. Compounds of filtering membranes in a body of filter pure polypropylene, strengthened by thermofusion without any glue nor product of waterproofness, these filters appeal to the methods and the most advanced characteristics of today of design. They are tools perfected for numerous applications in the pharmaceutical, environmental, biotechnological and food companies.
Anatop Syringes Filters
Conceived for to be used with most of the solvents and aqueous and/or organic materials, the syringes filters for a single use Anotop are suitable for samples volumes up to 100 ml.
Thanks to its characteristical hexagonal geometry, made from virgin polypropylene, these syringes filters allow to exclude any samples contamination. Furthermore, no wetting agent and no adhesive are used during the manufacturing process.
An Anopore exclusive membrane is integrated into syringes filters, these are supplied with three filtration thresholds (sterile and not sterile). Versions with prefilter in micro-fiberglass are available for samples difficult to filter.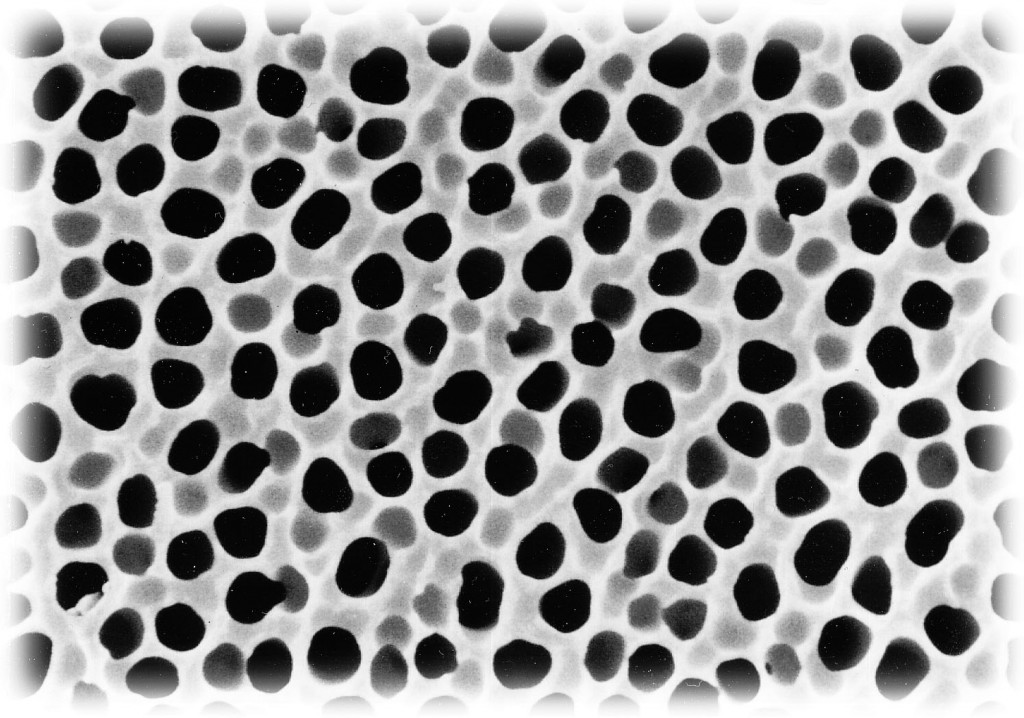 These anopores membrane have numerous advantages and characteristics:
A capillary structure of pores
A manufacturing in alumina 6 mm Al2O3
A weak protein adsorption
A maximal recovery of samples
These syringes filters will be ideal for the elimination of proteins or polymers with high molecular weight, but also for the filtration of solvents for the spectrographic analysis and the analytical sample preparation.
But that's not all, for particular applications such as the filtration of difficult or complex solutions, you can choose syringes filters Anotop Plus 10 and 25 mm. These offer the additional benefit of one prefilter integrated into micro-fiberglass and so allow to delete any negative effect on the efficiency of filtration of the final membrane. It will not be any more necessary to clean samples nor to proceed to the expensive and boring sequential filtrations.
The chromatography and HPLC find there also a solution for the sample preparation , thanks to the syringes filters Whatman Anotop IC 10 and 25 mm. They assure very low levels of extractibles Ionic for these applications, and so allow a better reproducibility of the analytical results and the increase of the life of columns.
Syringes filters GD/X ® and GD/XP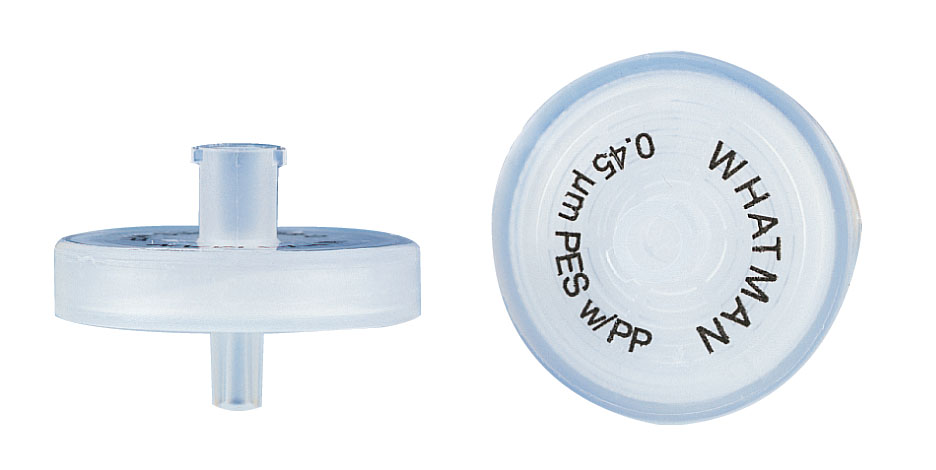 Syringe filter with a single use Whatman GD/X are the ideal choice for the sample preparation which are difficult to filter
Available in 13 and 25 mm, the body of the syringe is in virgin polypropylene, which one exclude any sample contamination. Their exclusive layers of prefiltration Whatman GMF 150 (progressive density) and media in glass microfiber GF/F allow to filter even the most difficult samples by limiting the manual pressure.
Autoclavalbe in 121 °C, these syringes filters GD/X can, contrary to a protected membrane, handle a volume of sample from 3 to 7 times more important.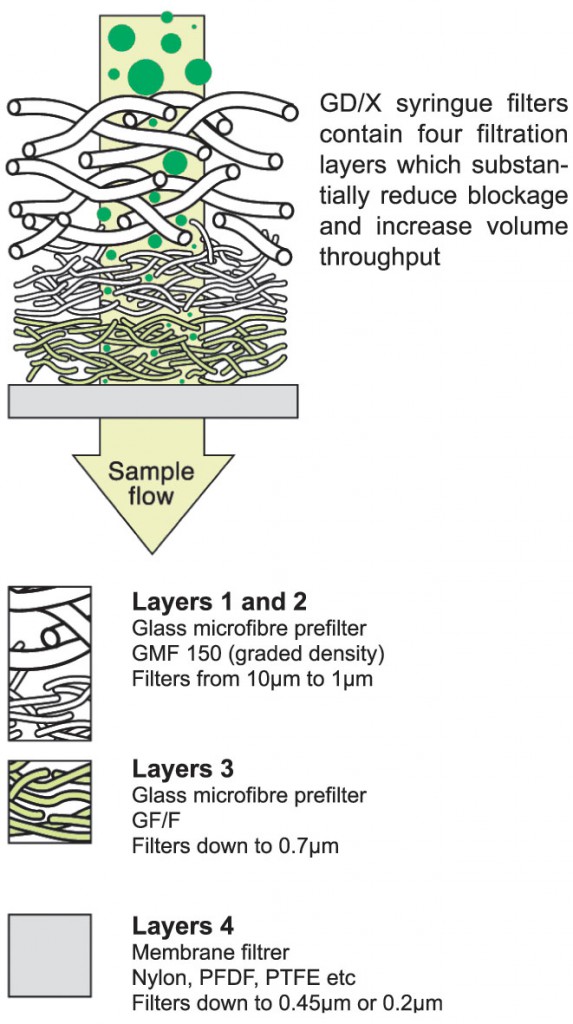 Membranes GD/X are constituted by 4 coats :
The top layers 1 and 2 in glass microfiber borosilité (membrane 100 % GMF) capture by gradient of porosity the impurities until 1,0 µm.
The coat 3 is one prefilters GF / F allowing to stop the impurities until 0,7 µm.
The coat 4 is constituted by a filtering membrane of diverse nature (Nylon, PTFE, PVDF, THAT, PP, PE,…)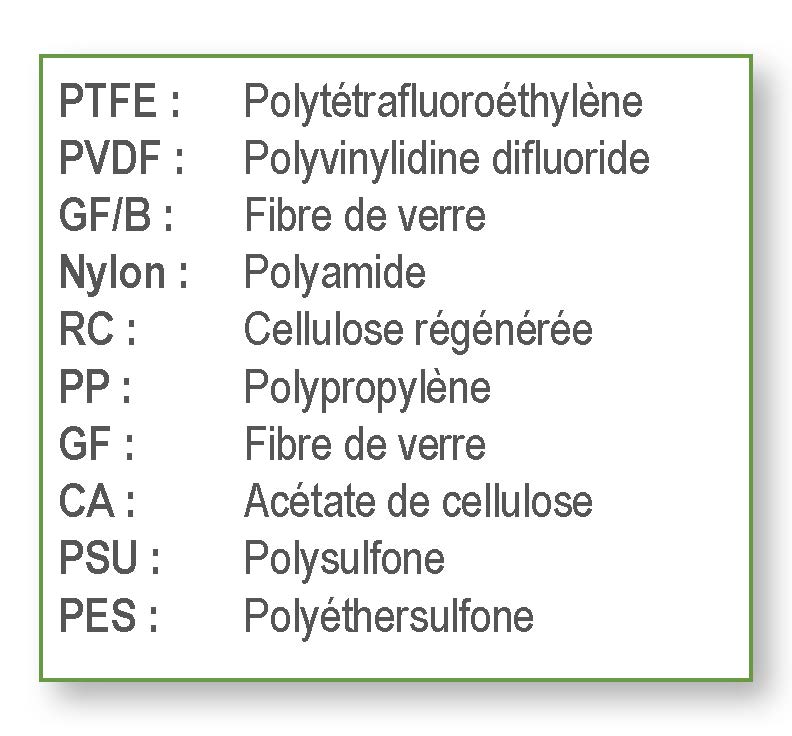 This technology is a guarantor of a very strong capacity of retention in important flows, while eliminating the problems often observed with a no protected membrane(sealing).
Filters GD/XP are the same nature that filters GD/X and allow an analysis of organic ions because the rates of extractibles Ionic are minimal.
Available in sterile models, filter GD / XP and GD / X have various applications:
On samples difficult to deal, very charged in particles.
On tries of dissolution.
On the routine sample preparations .
On food analyses.
On environmental samples.
On biological dosages of composite samples.
On analyses of tracks of metals (on GD / XP).
On HPLC sample preparation  (on GD / XD).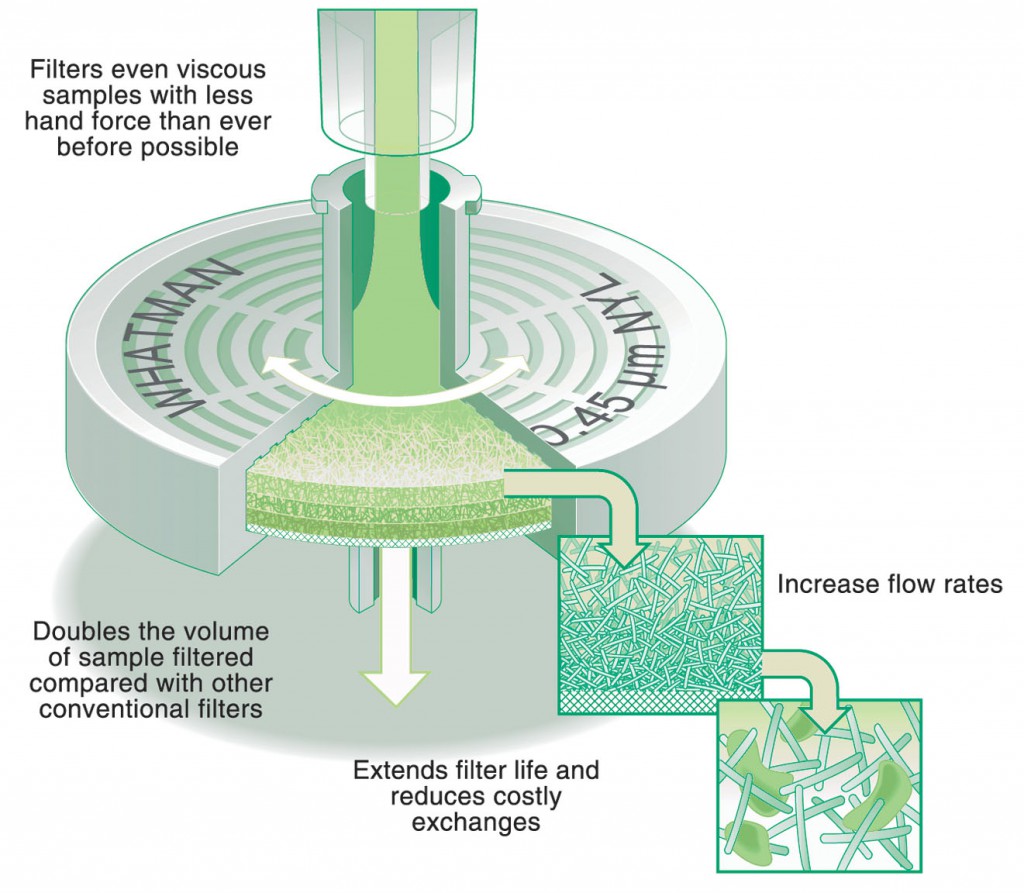 Syringes Filters Puradisc ™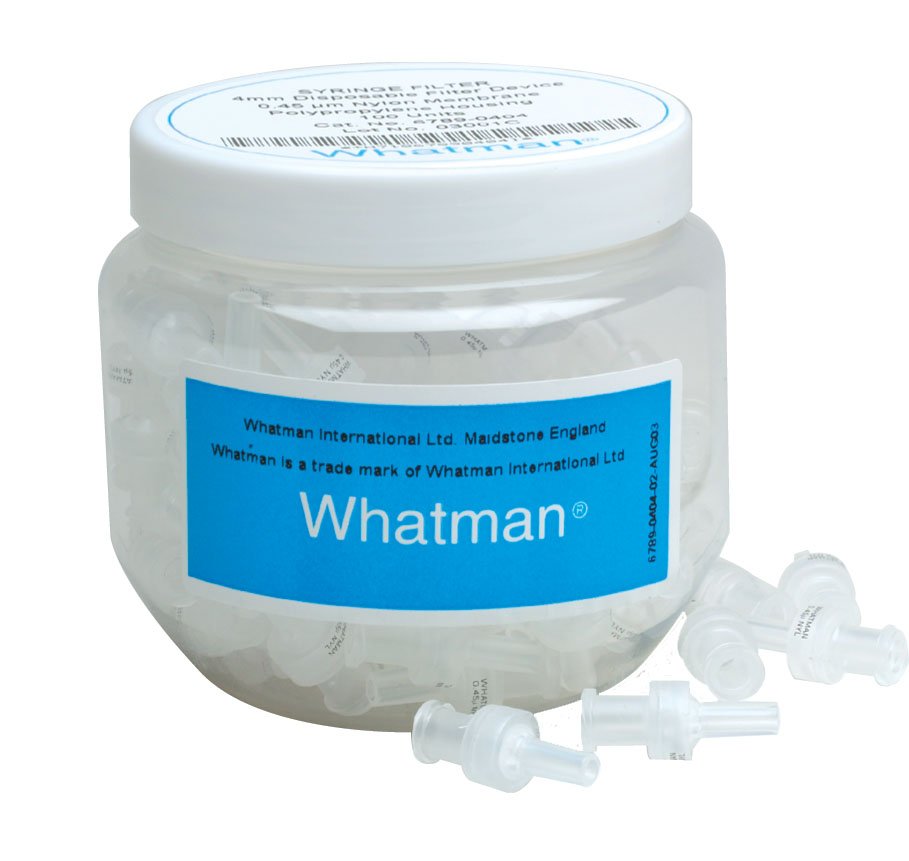 Designed to quicky filtersamples until a volume of 100 ml, the syringe filters Puradisc are made in virgin polypropylene and equipped with fittings of entrance and exit luer standard.
Syringes filters autoclavable in 121 °C, Puradisc 4 and Puradisc 13, are available with a special tip of exit allowing to distribute the sample exactly in a "microphone-vial", while avoiding the phenomena of air pockets.
The sterile versions of these syringes filters are supplied under a blister with medical quality for the critical applications. Filters are also thermo-sealed in a blister pack, without adhesive to avoid any contamination of samples.
Syringes Filters Spartan ®
Made of a very high quality polypropylene hull of very high quality and manufactured with a membrane in regenerated cellulose, the universal filters Spartan® have an excellent chemical stability with the usual solvents, and allow to deal with aqueous samples but also organic solvents.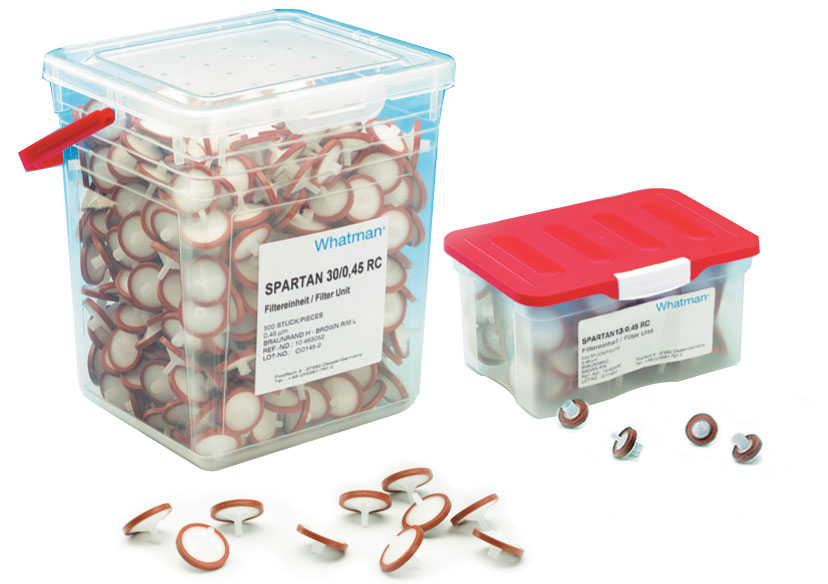 Spartan is certified lot by lot with solvents usually used in HPLC as acetonitrile,  methanol or water.
Know more :