[EDIT september 2019 : A new catalog is available, stay tuned! ]
Interchim wishes to help you in the security approach and quality within your laboratory
Thanks to our knowledge of the SCAT Europe products range (manufacturer of more than 600 products to secure the solvents manipulation), we shall find the solution which fits your needs.
Safety in your environment and comfort in your work.
The new edition of the catalog SCAT Europe is improve by more safety caps and accessories to work in a healthy and secure environment.
Find all the various products range from SCAT as well as the novelties for your laboratory :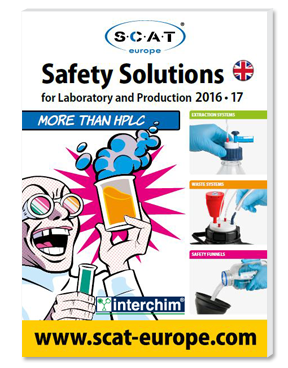 Extraction Systems : SafetyCaps – Air Valves)
Waste Systems : SafetyWasteCaps – Exhaust Filters
Safety funnels
Level control
Containers
Accessories
Thanks to the huge numbers of caps and accessories, we remain at your disposal to find the best installation for your safety!
Know more :