Tools and selection guides from our expertise of stationary phase.
Many scientists have sought to characterize and classify the stationary phases dedicated to liquid chromatography (HPLC, UHPLC, LC Prep) to give the main keys of use to analysts.
For over 25 years, Interchim works with many university research teams and especially with the LETIAM (IUT Orsay), Laboratory of Analytical Chemistry Group South Paris. Our common goal, beyond any special knowledge of the behavior of stationary phases for liquid chromatography, is to offer analysts the tools to a relevant choice of columns.
For this, we used many chromatographic tests:
Test

from

Lesellier

&

Tchapla

– sub

–

critical

analysis

of isomers of

carotenoids

Tests

from

Tanaka

(x6)

Test

from

GCAP

of

Geneva

Additional

general tests

(

"Sander

and

Wise

", "

Engelhardt")
A

pplication testing

(

Alkaloids, Beta

Blockers

,

sunscreens

,

Pesticides,

fat-soluble

vitamins

,

digitalis

,

catecholamines

, PAH,

steroids

,

phenols

)
To date, we have evaluated over 300 stationary phases for liquid chromatography reverse phase on totally porous silicas from 1.7 to 15 microns, or superficially porous silicas (Core Shell).
Our expertise on detailed knowledge of selectivities stationary phases, has enabled us to develop various tools and product lines to:
Select a suitable stationary phase for a given application.
Reduce the time of analysis of conventional methods of chain (U)HPLC.
Transposing a stationary analytical phase to a stationary phase for purification.
Substitute a first generation of silica by a modern quality silica without changing selectivity.
Columns ranges Interchim Uptisphere® CS Evolution ™, Uptisphere® Strategy ™, Uptisphere®, Puriflash® Prep & Vintage ™ provide you effective solutions to todays analytical methods.
The tool

"LC

Cross

Parts"

, created

to meet your

reference

transposition

needs.
"LC Cross Parts" is a powerful tool to transpose a reference from a manufacturer to a reference from Interchim ensuring selectivity as close as possible.
More than 18500 references from manufacturers and 25 suppliers are available today.
Selection Guide for

silica

columns

(U)

HPLC

Uptisphere®

& Strategy

™



Silica ultra pure? spherical silica? Totally porous silica?
This (U)HPLC selection guide  for analysis of small molecules guide you towards a product selection that is based on your analytical strategies or types of products to quantify.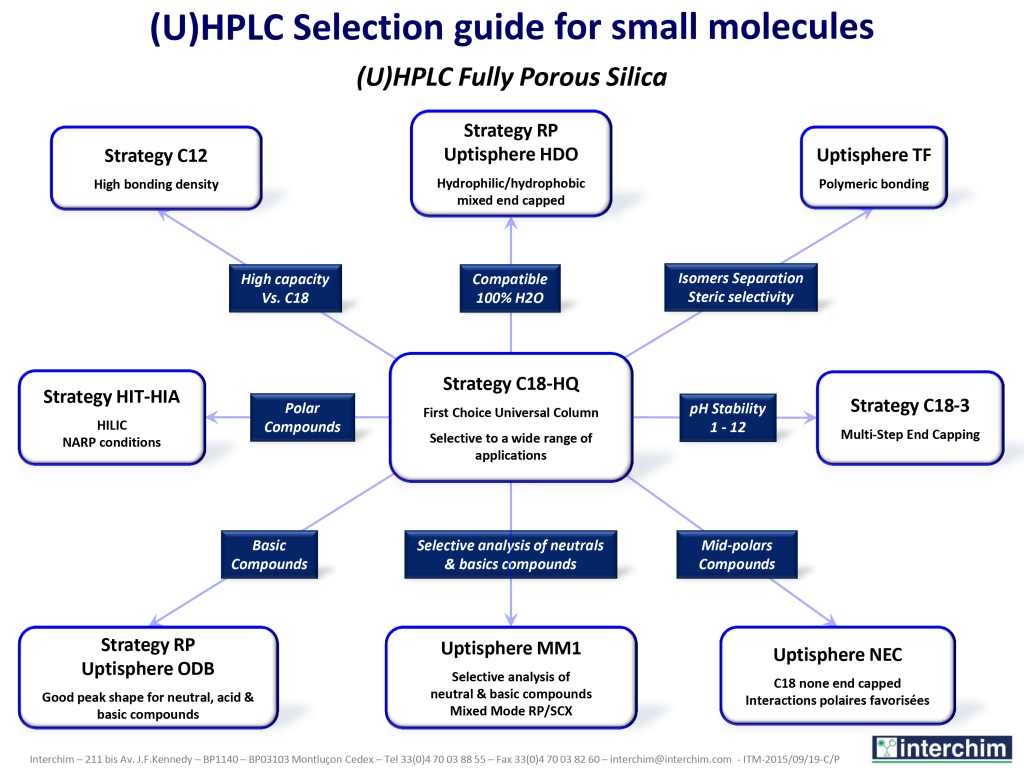 Selection Guide for

silica

columns

(U)

HPLC

Uptisphere®

CS

Evolution

™
Core

Shell

:

Increase

the productivity of your

analysis without

resolution

loss.
Superficially porous silica technology (Core Shell, Fused Core) presents multiple advantages compared to totally porous silica particles for the identification and quantification, including small molecules.
The performance of Core Shell columns (effectiveness) are very close to Sub-2µm totally porous particles but with 2 to 3 times less pressure.
That is why, this technology is compatible on a wide range of conventional devices using HPLC columns of internal diameter 3 or 4.6mm to increase the productivity of your analysis without resolution loss.
The use of Core Shell columns on optimized UHPLC apparatus offers the possibility to couple several columns or selectivities for the separation of complex mixtures.
Uptisphere

CS

Evolution

:

superficially

porous silica

&

monodisperse

for

high efficiencies

and

highly

reproducible

columns.
Our superficially porous columns & mono-disperse Uptisphere CS Evolution columns guarantee high efficiencies and highly reproducible columns.
Interchim offers 8 selectivities for your development or analytical transfers.
MOST technology provides fine control of the surface state of the silica in particular of the balance hydrophobicity / hydrophilicity by increasing the exchange density, which gives unique selectivities to C18–HB, C18 and Hilic products as well as a stability of the bonded phases in high temperature
We also offer innovative selectivities as mixed mode RP / SCX or MVP grafting. The selectivities Uptisphere CS Evolution C18-RP & C18-AQ have the same surface chemistry as our totally porous silicas Strategy C18-RP & Puriflash C18-AQ, allowing full continuity of our selectivities for developments or transpositions.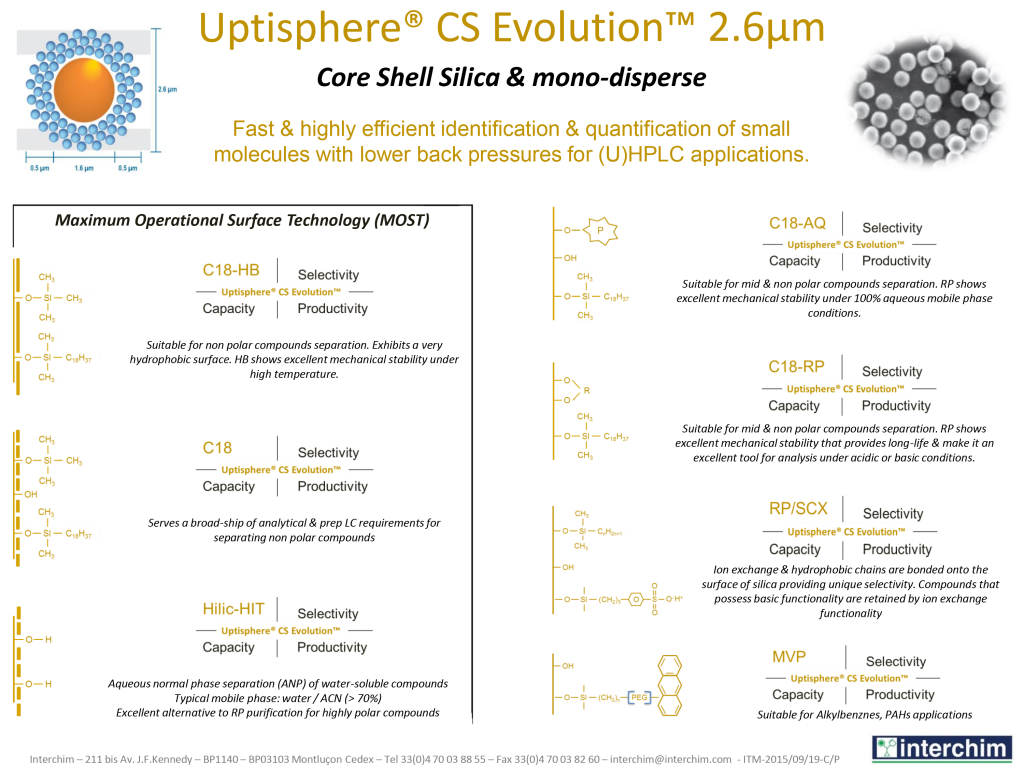 Find out more :
Find our products dedicated to liquid chromatography directly on our website.