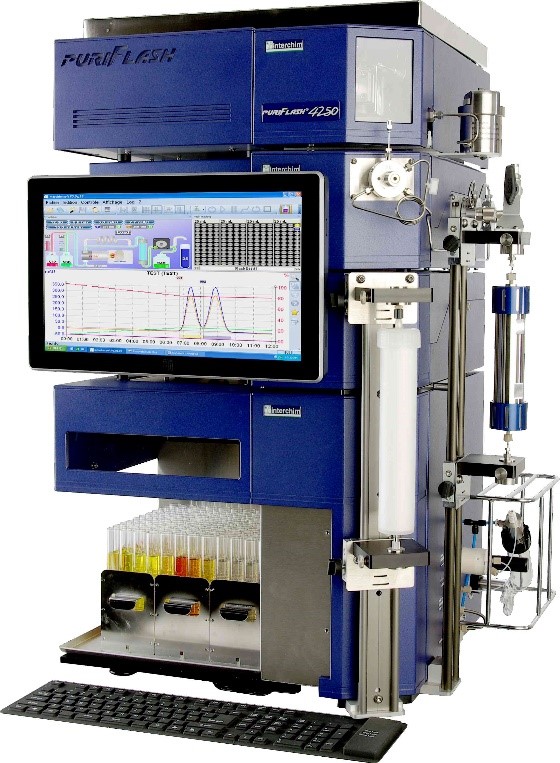 Interchim is present on the Flash chromatography market since 1995 with different distributions. In 2008, Interchim launched its own range of devices and consumables revolutionizing the purification.
The range has been developped with the Preparative and versatile device that allows customers to work on Flash and Preparative columns on a single device.
It offers new solutions to ours customers through UPFP® concept (Ultra Performance Flash Purification). The UPFP concept is the combination of advanced machine technology, built to last and mastery of small particle spherical silica puriFlash® columns which offers significant benefits over the traditional Flash grade silica.
Today, Interchim offers the widest product portofolio with 5 devices available and more than 35 different stationary phases (Silica, C18, CN, NH2, Polymer,…) dedicated to purification. Interchim continued the revolution of the purification with the integrated ELSD detector (Evaporative Light Scattering Detector) for detecting all compounds even carbohydrates, peptides, amino acids, lipids, phospholipids, polymers, sugars (polysaccharids, oligosaccharids), PEG's, proteins unlike to the UV detector which detects only chromophoric compounds.
The ELSD detector is an universal detector unlike other detectors (UV, RI, Mass). The detector can be used in either normal or reverse phase condition but also with a gradient of several solvents. Response factors are constant, which is not the case for the UV detector.
The ELSD was developed with the Sedere company, a leader in this field. It has been specially designed for the purification (small amount of sample lost- 40µL/min, specific nebulizer, large range of mass to be purified, easy maintenance, low gas pressure required).
Sedere offers a technological advance over competitors with technology "Low temperature technology". This technology enables the detection of non and semi-volatile compounds at low temperature while preserving the integrity of thermo-sensitive compounds.
ELSD principle :
ELSD detection is a three steps process :
Nebulization
The nebulization is done with a venturi nebulizer :
Generate droplets of mobile phase containing the compound of interest.
Largest droplets are eliminated.
Evaporation :
The evaporation is realized using a heated tube. Nebulization mist flows through the tube. Solvent is evaporated.
Detection of light diffusion using Photomultiplier or a photodiode :
Measurement of light scattered by a stream of solid particles entering a flow cell which includes a light source.
The nebulization takes place in a nebulization room. A nebulization gas is used (compressed « dry » air, Nitrogen).
The evaporation is set in a drift tube. The nebulized eluent goes through a heated drift tube to evaporate the mobile phase. The temperature is optimized in function of solute nature and the mobile phase. For low or non volatile compounds the temperature of evaporation is increased to improve the detection.
 The detection :
Solid particles in suspension with gas scatter the light
Detection is obtained in measuring the intensity of the scattered light
A photo-sensor is placed at 120° of the light source
Light solute interaction have no relation with the molecular structure of the compound
A significant difference of volatility between the mobile phase and the compound is necessary. Take care of the detection of semi and high volatility compounds
Can work either in isocratic mode or elution gradient
No solvent restriction as long as it is evaporated before detection
The signal is only generated by non-evaporated compounds
However, take care of solvents quality : high amount of dry residues can generates high noise level.
Quantitative analysis :
The ELSD response is : A = a.mb with b ≠ 1
Peak area = a . Concentrationb
New: SAGA function
Interchim developed with Sedere a new option which consist of an automatic gain (SAGA: Sedex Automated Gain Adjustement) for ELSD detector.
It will adapt the gain to avoid saturation while to continue to detect small quantity of products. ELSD becomes unsaturable without impact on sensitivity.
Application: Separation of 2 diastereo-isomers.
Competitors just see 1 pic due to ELSD saturation (High gain) while Interchim's Integrated ELSD will see all product.
Example:
Injection of 5mL (625mg of each compound)
Column: PF-15SIHP-F0025
Flow rate: 15mL/min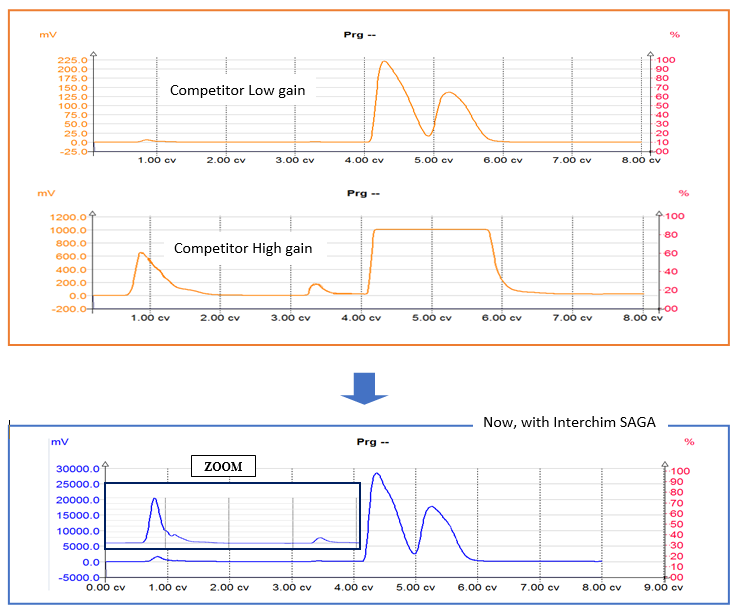 Conclusion
Sedere and Interchim, with this new advanced technology, offer a new solution for customers.
The automatic gain is delivered with all puriFlash devices. puriFlash system becomes easy to use and can detect all compounds regardless the quantity to purify.
A low gain doesn't mean more sensitivity, we can't see impurities.
On the contrary, high gain is too much sensitive, we can see impurities but the two mains compounds co-detected.
By developing with Sedere the automatic gain (SAGA), Interchim provides a good answer to this matter, having sensitivity and "seeing" call compounds without saturation in the same time.
Simplicity
It makes user life easier as it is not necessary to adjust the gain according to the sample load.
Flexibility
It works for little quantities (2mg) and for higher sample loading up to 20%.
Confidence
All compounds are detected and 100% seen.