1. Interchim® pre-packed prep-LC columns
Interchim® Preparative columns range from 10.0 to 50mm i.d for the purification of samples ranging from mg to g.
# Column hardware  & column packing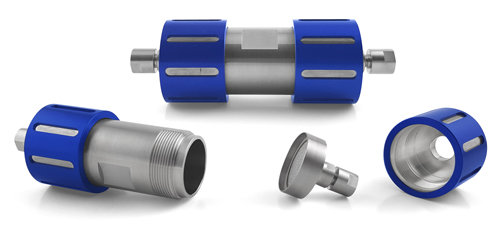 The tube polishing value (Ra) has a fundamental importance in preparative chromatography.
A primary reason for peak broadening and low efficiency is the use of a poorer hardware quality.
As the mobile phase is slowed down near the column wall, molecules in the center of the mobile phase stream move faster than the molecules closer to the side.
All columns have extremely smooth internal surfaces (typically 8 μ inch of Ra) to considerably reduce issues of drag and maintain column efficiency. Efficiency is also managed through Interchim®'s state-of-the art proprietary packing processes – Modulo-cart Prep withstand packing pressures up to 550 bars contributing strongly to a good bed stability and column life time.
# Sample dispersion
The loading of sample onto a preparative column requires stringent management to establish quality separations. Column overloading results in a poor retention of pure fraction and therefore particular attention needs to be placed upon selecting the appropriate column dimension and the properties of the stationary phase. In addition, a careful control of the introduction of sample to the column is necessary to establish a homogeneous sample dispersion through the sorbent bead head. Sample typically enters a preparative column through a 1/16" fitting; poor sample loading will lead to overloading certain areas of the stationary phase whilst other areas will be underloaded.
E.g. For a 50mm i.d column with a 500μm i.d capillary fitting – sample introduced onto the column (without any sample distributor) will only interact with 0.01% of the surface column head. As well as a dramatic loss in capacity there will also be a high potential for the column head to prematurely clog, rapidly reducing column life times.
To prevent this problem Interchim®'s Modulo-cart Preparative columns are outfitted with a sample distributor. The sample distributor design maximizes the efficiency of sample volume dispersion and the sample mass introduced to the surface of the column head raising column life time.
2. Interchim® DAC columns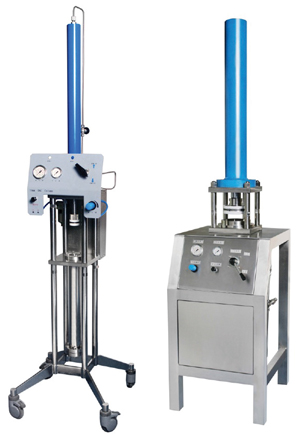 DAC stands for dynamic axial compression. It combines the preparative column and packing system together. It is very simple to operate. The column can be used online when it is packed. Don't take the column down!
The piston of the column always produces a stable pressure on packing bed which prevent the collapse and loose of the column bed.
They can be packed with small particulate media to reach high levels of performance.
Column tube material: 316L
Roughness: Inner surface Ra ≤ 0.4µm
Filter:  316L Pore size 3-5µm
High pressure seal PTFE and 316L
Operating temperature: 5-60°C
Control pannel: air pressure gauge, oil gauge, regulating valve, emmergency stop switch, change direction valve, shutt-off valve
Air source: ≥ 6bar, output ≥ 8m3/min
| | | | | | | |
| --- | --- | --- | --- | --- | --- | --- |
| P/N | Format | ID | Max bed height | Inlet/Outlet connection | Overall dimensions | Weight |
| KV7350 | DAC ID50 | 50mm | 300mm | 1/16″ | 550mm x 500mm x 1900mm | 100kg |
| KV7370 | DAC ID80 | 80mm | 300mm | 1/8″ | 550mm x 600mm x 2200mm | 200kg |
| KV7390 | DAC ID100 | 100mm | 300mm | 1/8″ | 550mm x 600mm x 2200mm | 200kg |
Learn more:
Feel free to contact the technical support at +33 4 70 03 73 01 or by email at interfine@interchim.com.